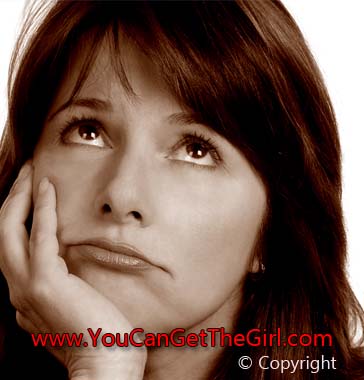 There is nothing worse than falling for someone then realizing that she is interested in someone else. You have a particularly big obstacle if that person is her ex-boyfriend. If you have been dating for a while and are beginning to feeling like she is not totally invested in the relationship, you need to look for some warning signs that she isn't ready to move on.
If she is still pining over an ex, you aren't going to be able to move forward with your relationship. It is possible that your burgeoning relationship is just a quick rebound fling for her.
The Always Relevant Ex
Somehow her ex finds his ways into almost every conversation that the two of you have. There are constantly things that remind her of him and she brings him up regularly. There is really no excuse for this. It is fine to share some romantic history but her past partners shouldn't have anything to do with your present.
If you finding yourself know a little bit too much about a particular ex-boyfriend then she is probably still fixating on him. You don't need to know about his favorite cocktail or where we goes on weekends.
The Unmentionable Ex
Sometimes the opposite situation is true. If she is really hung up on him, you won't be able to talk about him at all. If she can't even share basic details about her past relationships with you, there might be something up.
This can be a bit trickier to spot so watch her body language. If she is telling you a story about her past and can't even casually mention that her ex-boyfriend was in the picture then, something is wrong.
The Too Close Ex
There is nothing wrong with people being friends with their exes per se but tread carefully. If she is talking to him regularly and inviting him out every week, they might be a little bit too close. It is great if she chats with him occasionally and they have a healthy relationship but it should never stand in the way of her current relationship.
The Ex Cluttering Her Apartment
If she still hasn't taken his things out of her place, there is a definite problem. Either she just broke up with him or she can't let go. Neither is a good sign. He shouldn't have shaving cream in the bathroom or socks in the drawers. If he is gone from her life, all of his things should also be gone from her place.
The Ex Standing between You
If things are going well between the two of you, it is natural to want to move forward with your relationship. If she is dragging her feet and doesn't have a particular reason why, it might be because she is still hung up on her ex-boyfriend.
If you have seen a few other warning signs and now she is saying that she doesn't want to make a major commitment, it is time to move on.
For more tips on writing an online dating profile and tips for online dating  please visit www.DatingProfileWriters.com