Enjoy Campus Love Life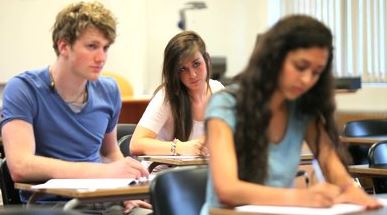 So you have a crush on a campus hottie but don't know how to get her to notice you. Maybe you are a little shy when it comes to approaching girls, or maybe you tend to blend in with the crowd for fear of drawing too much attention to yourself. Despite what you may think, you already have plenty of great qualities, you just need to be confident in your abilities and know how to present yourself to your crush in an approachable way.
Be friendly
Try to be friendly without displaying ulterior motives. When you see your crush around campus, make eye contact and flash a quick smile. Don't stare too long, but don't be afraid to make eye contact; make sure she knows you notice her presence. If you are in the same class, ask her a simple question about something you are learning in class, even if you already know the answer. Opening the lines of communication is essential. For all you know, she could have a crush on you but maybe she's too shy to initiate contact. If you don't seem friendly, all bets are off.
Dress to impress
Make sure that you wear clothing that fits well and is in style. This will let your crush know that you take care of yourself and care how you look. Consider dressing in a similar style as your crush while still maintaining a sense of self. It will make her think you have more in common with each other. If she is more into punk rock, buy a pair of converse sneakers to go with your flashy shirt or hip v-neck.  Making statements with your clothing is one sure way to get her attention.
Display confidence
Confidence is key in life and it is an attractive quality. It shows that you are comfortable with yourself and makes you more approachable. Walk with your shoulders and head up and walk like you know where you are going. When you talk to your crush, speak as if you're talking to a long time friend. If you have to fake it, that's alright; no one else will ever know. After forcing confidence for a while, it will come naturally.
Befriend your crush's friends
The more friends you have in common, the more you will hang around each other. Her friends might even tell your crush about how sweet or friendly you are. Just remember, be friendly to her friends and more flirty with your crush—you don't want her to think you aren't interested in her because you are flirting with their friends.
If you are used to sitting back and admiring from a far, now is the time to step it up and make her notice you! These subtle tips will help you catch her eye, and hopefully make you more than just "classmates."