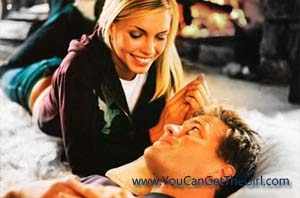 While most people think of going out when they think of a romantic date, some of the most romantic evenings happen when you stay home instead. Whether you are working with a small budget or you simply want some privacy, here are eight things you need for a romantic night in.
1. Dinner
If your date is hungry, the night is not going to go well. Luckily, your dinner options are endless and can be from no fuss to a gourmet extravaganza. Ok, you may not be a gourmet chef, so keep it simple with what you do best – even if that is a frozen dinner.  It doesn't have to be super fancy, but if you do choose to cook a frozen meal be sure you arrange it nicely on a plate with your side dishes so that it looks like you put some effort in.
2. Wine
A nice glass of wine sets the mood for romance and helps calm you both down if you are nervous. Ask for suggestions if you are unsure which kind to get. If one of you doesn't drink, you can still set the mood with a nice glass of sparkling cider presenting in fancy glasses.
3. Music
Nothing creates a date night atmosphere like the right music. Play either classical music or jazz, both of which are sure to make her feel like a sophisticated lady. Pay attention to the volume. You don't want the music to be so loud that you can't hold a normal conversation.  Music also provides a good subject for conversation.
4. Candles
Overhead light can be harsh and unflattering. The soft glow of candlelight will encourage you to sit close so you can see each other.  There is an alluring and calming feeling with candles flickering.  Romantic!
5. Lighter or Matches
While lighters and matches are not particularly sexy themselves, you will feel really silly if you forget them and have to set out unlit candles.
6. A Movie
Give your date a chance to relax while the two of you snuggle in for a movie. A romantic comedy will get her in the mood for love, while a scary movie will have her clinging close to you for protection.
7. Attractive Clothing
If she is silently checking out your holey socks and ratty shirt, she will not be thinking about romance so make sure you wear something nice.  This also includes the clothes that should not be lying around.  If you are unsure about how to dress, this page has lots of nice looking shirts for impressing the ladies. 
8. Chocolate
You will want to get your date something nice, but be careful not to go over the top. A box of chocolates is a sweet gift she will savor. Buy her favorite kind if you know what it is or buy a box of mixed chocolates if you are unsure.
9. Essential Oils
When you have a date coming over. You'll want to make sure your home is clean and fresh. A great way to keep your home smelling fresh is essential oils. Some people have allergies or reactions to certain store-bought air fresheners so you won't want to use those and have your date sneezing all night. An all natural way to keep your home fresh is to heat up some water in a bowl and add a few drops of your favorite essential oil. The scent will spread quickly through your home leaving a delightful aroma.
While romantic nights in tend to be more informal in nature, this does not mean that you can do whatever you want and still have another date in the future. While some creativity is always welcomed and encouraged, these eight items are classic date night in standbys that are sure to be a hit and to get you many more dates in the future.