Kino Escalation and More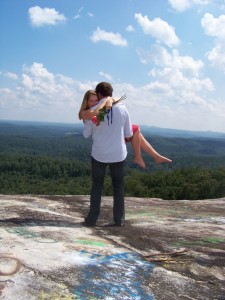 This month David Deangelo had the pleasure of interviewing a gentleman who goes by the name of Vin di Carlo.
Vin has an extensive background taking individuals and groups of men out in the field to interact with women, teaching them both the essential skills and – more importantly – the right MINDSETS needed to attract women and succeed in the world of dating.
In this interview, Vin shared some true gems… like how to keep your cool when another guy walks up to your woman… how to instantly start fun conversations with women you've just met… how to make a woman feel compelled to WIN YOU OVER.. and much more.
I've put together for you a summary of some of the great tips he shared… enjoy…
1. Why It's So Important To Cultivate A "Warm Dominance"
Vin shared the idea that if you come from the right place – the right emotional state – it can have a PROFOUND impact on your ability to attract women. He talked about an attitude he calls "Warm Dominance," and he describes it as having a calm, happy, yet assertive energy. Think of it as an unwavering emotional state – no matter what happens, you're cool with it… and you remain calm.
Let's say you're talking to a woman… and another guy comes up and starts talking to her.
When this happens, the archaic, reptilian, instinctive part of men's brains usually gets triggered… they view the other guy as a THREAT… and they get rattled and come unglued in a BIG way.
Worst of all, a woman can see exactly what's happening when you lose your composure… and this isn't exactly GREAT for making her WANT YOU.
When something like this happens, Vin suggests recognizing what's going on and choosing to approach the situation in a different way…
If another guy comes up, don't view as something BAD at all. Don't think that you have to be wittier than this guy, or be cooler than him, or whatever. If you think this, you've already lost.
Instead, treat the situation like it's going to benefit you. Actually have FUN with it. Just be laid back and flow with the situation. Start a relaxed, normal conversation with the guy.
When you do, you'll demonstrate to the woman that you're the not the kind of guy who's easily thrown off course – but even if she doesn't recognize this, at least you avoid her seeing you lose your composure and getting turned off…
And many times, that's half the battle… or as one of Vin's friends, his barber actually, said – "Success with women is easy. Just make less mistakes than the other guy."
'Nuff said.
2. Establish Your Credibility & Safety
These days, with more and more scams proliferating through more and more channels… including the Internet… women are more skeptical than ever about meeting men they don't know.
It's not that they're not open to meeting new men – it's just that their "safety detection systems" radars are on full-alert, looking for a million different clues that something isn't quite safe.
Couple this with the fact that a woman has to trust that you are exactly who you say you are before she'll be cool with things progressing… and you've got yourself a little challenge. The way to meet this challenge, as Vin puts it, is to learn how to quickly establish your CREDIBILITY with the women you meet.
One way to do this is remember to always reference your friends and families by their FIRST NAMES when you talk about them. So while you're chatting with a woman and sharing stories, say "My brother KEVIN did this…" or "My friend MICHAEL did that…"
By including their names, you help her fill in the picture of who you are with vivid, specific details. Anybody can have a brother… but when you talk specifically about your brother KEVIN it helps her connect personally with what you're talking about… and with YOU.
This helps her see you as a real, credible person in her eyes. She'll feel safe around you… and she'll seeing you as much more than just some "guy in a club" or "guy at a party" that she randomly met.
There are other ways to give a woman this feeling of safety… One is to simply introduce her to your friends and show her that you're friends are just as cool as you are… hopefully…
Another is to respect her "psychological space"… let me explain…
Let's say I'm having coffee with a woman I just met. We've been talking for an hour or two, and we head back to my place to hang out and relax. If she walks in and sits down on the couch, and I immediately sit down right next to her… almost touching her… that communicates one thing.
But I communicate a very different thing if she sits down on the couch… and I walk into the kitchen and ask if she wants some water… and then I'm sort of wandering around the house giving her plenty of space and time to get comfortable… and then finally I walk in the room and relax into a chair 5 feet away from her… and I'm not in any way trying to get something from her… I'm just relaxing and enjoying her company.
This simple shift in attitude and action can have a POWERFUL impact on how safe a woman feels with you… and whether or not she trusts you enough to allow things to get hot.
3. Role Play With Random Women To Spark Attraction
Many guys think that if you want to pick up a woman and get her number and email… that you have to do something fancy, gimmicky, or complicated. Vin disagrees. One sure-fire and simple method he suggests for approaching women is ROLE-PLAYING.
Role-playing is great because it naturally puts you in a light, playful mood. Not only is it fun for you, but it also shows women you're comfortable in your own skin.
Here's how it works:
Let's say you're in the mall and there's a cute girl working in a store. You can see she's busy straightening up things. Walk up to her with a playful attitude and say something like, "You know, it's about time… I've been looking for a good interior decorator for a long time… and here you are! My kitchen still has 1970's wall paper, what do you suggest?"
Most women love spontaneous role-playing like this, and they're very likely to play along.
One of the great benefits of an approach like this is that it communicates that you're a CHALLENGE.
In a subtle way you're saying, "Hey, I'm creative and fun…. Can you even go there with me? Do you have the wit, the mind, the humor, and imagination to get into this with me?" And on the other side of the coin, if you do this in a fun and confident way and a woman brushes you off, it's so easy to throw it back at her in a fun way and just say, "Oh, I guess you're not that creative, eh?"
With the right tone and attitude, there's almost no way you can lose.
4. Capitalize On Windows Of Opportunity
A lot of guys think that building attraction has to take a lot of TIME. They believe they have to continually impress a woman or show her all the different parts of his life… until she finally sees that one thing about him that make her FEEL it for him. Nothing could be further from the truth.
There are ALWAYS windows of opportunity, even from the very MOMENT you meet a girl. If you capitalize on them, she'll start to feel attracted to you INSTANTLY.
But if you miss them, especially several in a row, she's going to decide that you're dumb… or that you don't "get" women… or that you're too much of a Wuss to be assertive and go after what you want.
Vin shared a couple of great examples of important windows of opportunities you can capitalize on –
Let's say you're out with a group of your buddies and you're talking to a girl who's with her friends. If she asks you a question about yourself, it shows that she's interested in you personally.
Here's your window of opportunity.
As you're answering her question, step to the side. By doing this, you'll be pulling her attention away from the group and more toward you. Vin calls "mini-isolation." You're isolating her from the group, and giving her the feeling that the two of you are talking one on one even though she hasn't left the safety of her group of friends.
Best of all, she's going to feel like SHE was the one who singled YOU out because she was the one who asked the initial question.
Here's another example:
If a woman ever gives you a compliment – on your shirt, or your eyes, or whatever – immediately return the compliment, step in, and touch her. Put your hand on her waist and gently pull her toward you.
Because she's the one who initiated the compliment, she will feel like SHE is the one putting the moves on YOU.
Nice.
What we're really talking about here is the behavior that all of us guys would NATURALLY exhibit if it weren't for all the negative programming we receive growing up and in the media on the topics of women and sex.
When we get over our false insecurities and our shame about sexuality, seizing these windows of opportunity becomes second nature.
Practice being proactive like this. Women will LOVE you for it.
5. Di Carlo Escalation Ladder
Vin has come up with what I believe is an ingenious model for taking things "physical" with a woman in an utterly smooth, natural way.
He calls it the "Di Carlo Escalation Ladder."
It's a tool you can use to progress from one physical level to the next with a woman without making the large jumps that typically cause a woman to reject you. Vin created this method by looking back at his own success with a lot of different women, and realizing that he naturally used the exact same process with different women over and over… and it worked almost every time.
Here's his model:
He categorized all sort of touching, or "kino," into 3 different classes.
Class 1 is the arms and hands. This includes shaking hands, high fives, palm reading, touching her arm while you're talking to her, etc.
Class 2 is the legs and torso. This includes incidentally touching her abs with your hand as you're talking, giving her a hug, etc.
Class 3 is the face or neck or hair. This includes brushing something from her face, or lightly brushing her neck as you touch a necklace she's wearing, etc. And, importantly, with each class you have two types of kino:
Incidental or Overt.
Incidental Kino happens naturally or accidentally out of circumstance. For example, sitting next to her and having your legs touching her legs. Or if you're talking in a club and your face brushes against hers while you speak in her ear.
Women usually have no problem with this sort of touching because it happens naturally…
Overt Kino is touching that's obviously on purpose, like holding a woman's hand, walking arm and arm, putting her hand on your thigh, etc.
The way Vin's method works is you start with Class 1 Incidental Kino.. then move to Class 1 Overt Kino.. then Class 2 Incidental… then Class 2 Overt… and on and on.
The idea here is that if a woman is okay with Incidental Kino on a certain level, and she gets comfortable with it, she'll be 10 times more likely to be okay with OVERT Kino on the SAME level.
If you progress through the "De Carlo Ladder" step by step, you'll always know how comfortable a woman is with going to the next level BEFORE you try to go there.
And that's pretty damn cool.
Vin shared 2 other important points on using his ladder –
First, don't try to escalate with a girl into x-rated zones unless you're planning on going all the way. If you ALMOST go all the way but don't quite follow through, the next time you get together with her she'll assume you'll try to seal the deal this time and you're likely to get some resistance.
Vin says it's better to go no further than Class 3 Overt until you're in an environment where you can take things all the way…like her bedroom.
Also, realize that if you really follow Vin's ladder to a T, it's almost like a Jedi Mind Trick – she'll hardly even notice that things are escalating physically. It'll feel natural to her, like it's "just happening."
"With great power, comes great responsibility…"
6. Make Her See You As The Prize She Wants
Most men have the mindset that they need to "win over" the woman they want. Of course, this gives THE WOMAN all the power in the relationship.
What would it be like if she was pursuing YOU? If instead of her being the prize you're trying to win over… YOU became the prize SHE tries to win over?
Here are 2 of the tools Vin shared to help make this happen:
His first tool is called Vision. Think of an important thing you're going after in life that's NOT her – your career, a serious hobby, etc., – and come up with ways that she can contribute to this passion of yours.
Instead of trying to fit into her life and be the perfect boyfriend, think of how SHE can fit into and add to YOUR life.
This keeps your power for yourself… prevents you from getting into the mind set of chasing after her and sacrificing things to "win her over"… and keeps you in the position of qualifying her to see if SHE has what it takes to be involved in YOUR life.
Vin's second tool is called Contribution Reframe.
The idea here is that if you playfully introduce the idea of her contributing and making an effort to win you over, she'll begin to automatically do this.
So… you go over to her house and you notice it's spotless. You say, "Oh, sweetie, you didn't have to clean up your whole place just for me." She might respond that she always keeps her place this clean… to which you can sarcastically come back with "It's OK. I believe you."
Or if you meet a woman after work and she's dressed up, you can say "Honey, you didn't have to get dressed up for me." If she tells you that she dresses like that for work, you again can come back with the "It's OK, I believe you."
Love it.
I hope you enjoyed this interview with Vin as much as I did… he revealed plenty of material that you can go out and use IMMEDIATELY.
In fact, I encourage you to listen to this interview several times, write down 3 of your favorite ideas, then GET OUT THERE and start using this killer content IMMEDIATELY.
And I'll talk to you again soon.
Your Friend,
David D.