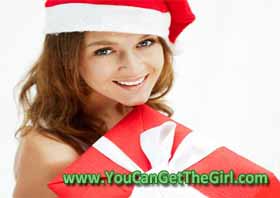 Asking your girl what she wants for Christmas takes the fun and surprise out of the experience. Most women want you to gift them to ideal present without having to say what it is. Avoid the frustration that comes along with trying to read your lady's mind. Learn how to pick up on the hints with these 5 simple tricks.
Browse Her Pinterest Boards
Gentlemen, don't be afraid of Pinterest. While it may seem at first confusing and time-consuming, it's full of ideas for gifts. Chances are your special someone has a Pinterest account. She likely has pinned some of her favorite and most-wanted items to her digital boards. Click on the image of her wanted item to learn more. She'll definitely be surprised and impressed by your sleuthing skills.
Check Her Facebook Likes and Comments
Nearly everyone these days has a Facebook page. Be sure to browse her likes and comments to get ideas. Is she a big fan of a certain jewelry designer? Or does she always comment on the items listed on a local store's page? By simply checking out her Facebook page, you could find the perfect present for her in just a few minutes. Like with Pinterest, women love using the internet and social media to collaborate about fashion and other things they like. Chances are, her Facebook likes will act as a "wish list" for you, leading you straight to the perfect present.
Talk to Her Nearest and Dearest
Most ladies talk about their most wanted gifts with their family and friends. Instead of asking your girl, talk to her mother, sister and best friend. Ask if she's mentioned a particular item. After you get the details, be sure to ask your confidant to keep a secret. It's no fun if she learns about the present early! If you and your girlfriend don't often go shopping together, you may not know where to start, so talking to her besties will give you a better idea of the path you will be on. You could even send a picture to one of her friends while you're in the store to ask if it's a good purchase. That way, you'll save yourself from making a mistake in buying the wrong thing.
Visit Her Favorite Store
Think of all the shopping trips you've made with your lady. Is there one store she always frequents? Head to her favorite shop or boutique. Don't be afraid to ask the sales clerk for ideas. She may remember something your girl loved during her last visit. If you choose a store that your girlfriend truly loves, it's a pretty safe bet. If she loves everything made by that company or brand, then you can't go wrong in what you choose. Sticking with her favorites will help you find something she will genuinely enjoy.
Listen for the Hints
Finally, always listen for the hints. It's likely your special someone has mentioned an item she's lusting after several times. Sometimes girls will talk about the things they want, but they don't want to spend the money on it. Maybe your girlfriend talks about how great it would be to have a spa day—some guys have paid for their lady to get laser hair removal for a Christmas surprise. Does she always complain about her scratched or out of date phone case? Does she practically drool over her best friend's new purse? These little hints can make it easy for you to gift an amazing present. All it takes is some careful listening.
Once you take advantage of these five tricks, you'll be sure to gift your girl something she loves for every special occasion. If your girlfriend expects you to read her mind and "just know" what she wants, don't panic. Be warned, she might say, "you don't have to get me anything." But don't fall for this. Even if it is something small, getting your girlfriend something for Christmas is a gesture she will really appreciate. And getting her something personal, or something she really wants will win you even more points with her.